Raw Truth Life Men's T-Shirt
Quantity
minimum quantity: x available in bundles of: x Product ordered in bundles.
Sizing Details
Size Guide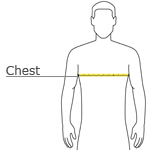 | | Y X-Small | ysm | ymed | ylg | yxl | ADULT Small | S | M | L | XL | 2XL | 3XL | 5XL | 4XL |
| --- | --- | --- | --- | --- | --- | --- | --- | --- | --- | --- | --- | --- | --- | --- |
| Chest | | | | | | | 34-36 | 38-40 | 42-44 | 46-48 | 50-52 | 54-56 | | |
Basic fit t-shirt with customizable colors, designs, and the choice of cotton or cotton/poly blend makes this shirt our number 1 shirt option for the whole family. From grandparents to the little ones alike!
This shirt will carry the perfect design for reuniting with friends and family no matter how big or small the order is.
5.3-ounce, 100% cotton (preshrunk)

Double-needle sleeves and hem

Taped neck and shoulders

Ash is 99/1 cotton/poly.

Sport Grey is 90/10 cotton/poly.
RawTruthLife, was birth in December year 2013, in the pulpit at my church on one of the biggest nights of the year, Watch Night, a New Years night, my leader who is one of my biggest supporters gave me the opportunity to expose who I was, before this opportunity I, on my own, produce motivational cds thats so different, so hood but yet so relatable that it opened doors I wasn't mentally prepared for, that night in the pulpit with the church packed, everybody looking right at me teaching me at that moment the studio is much different than being in the pulpit looking at the many eyes watching me, the fear of public speaking grab me and wouldn't let me go, I lost all confidence, I stuttered, I stumbled over words, I really felt like I embarrassed myself so so bad, but still 15 souls was saved that night, but after that night I literally ran from God, went back in the streets wishing to never ever feel that embarrassment again, it's been years back lost in the streets but still I felt God telling me to go back and push RawTruth, so I started pushing it on my social media as my signature, then God told me to take it a step further and push the clothing I always desired to do, for I love fashion and I always wanted something to do with clothing, shades, beautiful smells, so now my biggest embarrassment has went from a social media signature to a brand I'm gonna push until I die, taking what satan wish to use to destroy me, making it my biggest blessing, freeing me from a lifestyle that'll send me to hell if death caught me slipping before I got it right with God, so RawTruth the sermon hurt my feelings to the core but God is gonna use it to bless my life! RawTruth
This classic unisex jersey short sleeve tee fits like a well-loved favorite. Soft cotton and quality print make users fall in love with it over and over again. These t-shirts have-ribbed knit collars to bolster shaping. The shoulders have taping for better fit over time. Dual side seams hold the garment's shape for longer.